Rice cooker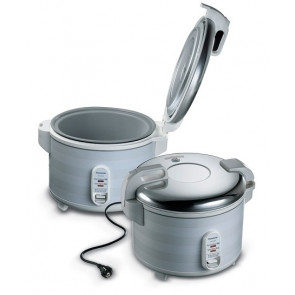 You still do not have a rice cooker in your kitchen? It is the most useful pot for the preparation of oriental dishes based on rice and cereals.
It is not suitable for whipping risottos but it is a solution that makes cooking quick and practical. Highly recommended for cooking basmati rice and other cereals that accompany another food. For this reason it is indicated more for the preparation of oriental menus.
Thanks to the construction of the steel body, the internal vessel is non-stick and heat resistant. Also suitable for keeping warm dishes prepared.
The rice cooker pot is mostly required for hot buffets, restaurants with oriental menus, pubs, self service and canteens.
Why buy it? With a rice cooker pot in your kitchen, you just have to put the water and the rice inside, it's all by itself!