Wood-fired Rotisserie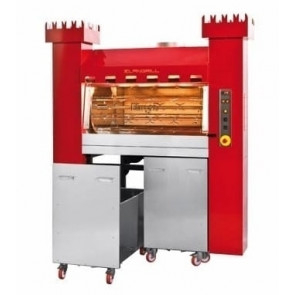 Here are the Professional Wood Rotisseries you were looking for!
For your restaurant, pizzeria or any other room with kitchen, the wood rotisserie machine for chickens, pork, porchetta, is ideal to meet the needs of your customers.
Which rotisserie for piglet to buy? Serving a tasty dish is not easy, you need to have experience and the right equipment. For this reason we recommend the wood rotisserie machines here present. They maintain the original flavor of the dish thanks to a slow and traditional cooking. Using it will be practical and fast.
Suitable for all types of cuisine: rotisserie, pizzeria, restaurant, pizzeria, hotel, bar, fast food, hot table. Buy here the wood rotisserie best suited to your range needs.